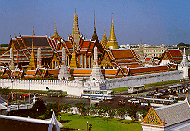 "Massachusetts", Visit The King of Thailand Birthplace Foundation (KTBF) Web site
Thai Link is a private company established to support the Reverse Brain Drain Project of Thailand and to promote Thailand. From our experience in serving as a communication link between Thai agencies and Thais living abroad, Thai Link has come to a conclusion that the success of the Reverse Brain Drain project depends almost entirely on the establishment of a solid mutual understanding between the two groups. Thai Link had conducted interviews with Thais at various locations in the US, UK and Thailand. Thai Link "Road to Thailand" is the summary of fact finding from the interviews. It may provide you with helpful information.
What do we do?
Our objectives are to promote Thailand and to serve the needs of Thai professionals, students and organizations in both Thailand and North America. We provide a vital link among them. We have learned that the career seminar and job fair activities could be potential activites to support the intellectual Thais to return home to help develop Thailand. Thai Link offers Complete-Cycled Career Services to meet the organization's, professional's and student's needs all year round. Professionals and students are invited to submit resumes to Thai Link at any time. We strongly encourage the organization to join us to fulfill your company's need and to support the Reverse Brain Drain Project of Thailand.
Career Information
Many companies are looking for candidates to fill many positions in Thailand.
Please email your resume in Microsoft Word format if you are looking for a job in Thailand.
Getting to Know Thais
Information About Thailand
Get Answer on Question about Visa to Thailand
Getting a Visa to Thailand
Extention of Visa & Issurance of Work Permit in Thailand
Issurance/Renewal a Thai Passport
Bangkok Post News of Thailand
The Nation News of Thailand
Thai News in Thai Language
Travel in Thailand
Interesting Web Sites in Thailand

Questions/Comments?
Please send Questions/Comments to Thai Link